Trinity Missionary Baptist Church
Our Church History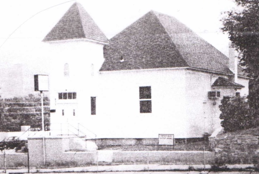 Trinity Missionary Baptist was organized in the spring of 1913 under the leadership of the late Reverend Tillman, who was the Pastor of St. John's Baptist Church (Colorado Springs, CO). The initial congregation consisted of 12 adult members and two children. The name "Trinity" was suggested by Sister Green and accepted. Trinity Baptist Church was organized and held its first Worship Service located at the 300 block of Costilla Street. The church later moved from there to the 500 block of West Colorado Avenue.
In 1921, the property located at 832 South Nevada was acquired. Reverend M.M. Purdue was the Pastor. God blessed the work of Trinity at this place, where it remained for the next 66 years. Many blessings were wrought during those early years. Most notably, Trinity's Choir was the first Negro group to broadcast an "Easter Cantata" in the city of Colorado Springs, as well as the first Black Baptist Church to have a live television broadcast.  During this span of time, the existing facility was renovated to accommodate the blessing of growth and change. From 1921 to 1961, many great men of God graced the Pulpit – Rev. M.M. Purdue, Rev. S.S. Smith, Rev. Johnson, Rev. W.C. Sample, Rev. Bryant, Rev. Lindsay, Rev. Holloway, Rev. Hughes, Rev. Gandy, Rev. Edwards, Rev. Shroud, Rev. J.E. Allen, Rev. N.J. Jeltz, Rev. C.M. Jones, Rev. Lyons, Rev. Smith, Rev. Hill, and Rev. Williams.
In 1961, Reverend L.W. Harvey was ordained and installed as the Pastor of Trinity Missionary Baptist Church. Under Rev. Harvey's leadership, Trinity became a Colorado Corporation and continued to grow in numbers and in spirit. The growth brought about a need for a new home. Trinity's new building fund began with a $1,000 donation. In 1982, Trinity acquired the present location (617 E. Fountain Boulevard). The groundbreaking ceremony was held on July 20, 1986.  On the morning of April 5, 1987, the officers and members of Trinity walked from the place, which had been home for 66 years to their new home. The love and generosity of the members, friends, and community filled this new edifice with the things it needed such as a baptismal pool, pews, kitchen equipment, and a host of other items. Rev. Harvey continued to serve faithfully in this vineyard until 1993. Reverend Asa Banks then led Trinity, during an interim period. Reverend George Duncan served as Pastor from 1993 through 1996. Under his leadership, the church marquee was purchased and erected. Reverend Jim Dotson and Reverend Orion Flournoy served as interim Pastors until October 1997 when God called Rev. Dotson as Pastor.
Reverend Jim Dotson was installed as Trinity's Pastor on January 4, 1998. In March 1998, Rev. Harvey was given the distinct honor of becoming Pastor Emeritus. Under the leadership of Pastor Dotson, many visions have come to fruition. The mortgage was paid, a Fellowship Hall was added along with renovations to the existing edifice were completed and paid off. With God's blessings, Trinity purchased the adjacent properties on each side of the church. In October of 2017, Pastor Dotson retired as Pastor of Trinity. We are grateful for his 20 years of leadership and his dedicated, unwavering service to the Trinity Family.
Reverend Bobby L.L. Jackson was installed as the Pastor of Trinity on June 3, 2018 and he served until 1 March 2022.
Currently, we are asking God for our next leader. We are excited and look forward to God's continual guidance and direction for our future.